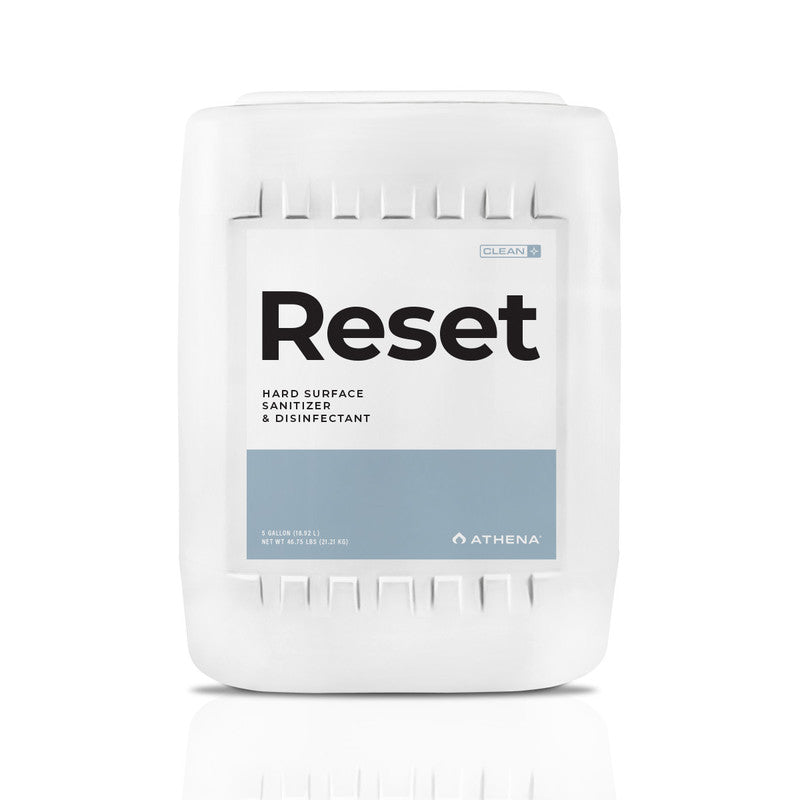 Athena Reset 5gal
🔥 Hot Product: Only 2 units remaining.
Regular price

$180.00

Sale price

$300.00

Unit price

per
Athena Reset is a powerful EPA-registered peroxyacetic acid (PAA) antimicrobial formulation that cleans, sanitizes, and disinfects. Its unique microbiocide properties work against a wide range of microorganisms in water or on hard non-porous surfaces. Its bacteria, slime, odor, and algae control features make Athena Reset an outstanding choice for cultivation facilities with the most demanding hygiene SOPs.
Athena Reset can be used as an industrial sanitizer and disinfectant for previously cleaned hard, non-porous contact surfaces in all areas of cultivation and production facilities. It can be applied in a foamer or fogger for high-level microbial control.
Its food-grade qualification makes Athena Reset an excellent option for sanitizing, bottle and filler sanitizing, and disinfection in all areas of cultivation and production facilities. It can remove biofilm on membranes used for ultrafiltration and reverse osmosis water systems as well as greenhouse wet walls.
Features
Disperses/penetrates biofilms
Kills bacteria, mold, fungus, and yeast
Fast-acting
Unaffected by water hardness and soil
Non-foaming (unless used with Athena Perafoam)
Does not add taste, odor, or color
No rinse required
Does not form disinfection byproducts
Breaks down into carbon dioxide and water
Non-corrosive to stainless steel, aluminum
Easily dispensed as a liquid
Sanitize and disinfect
Walls
Benches
Floors
Irrigation equipment
Dry rooms
Trim rooms
Bathrooms and locker rooms
Extraction equipment
Racking, shelves, carts
Entrances
Doorway foot baths
Tools & containers

Application Instructions

Athena Reset Foamer:
Transfer Athena Perafoam into the "Perafoam" tank on the Athena Reset Foamer. Fill the "Reset" tank with Athena Reset. Fill the 15 gallon water tank. Connect an appropriate air compressor. Ensure all connections are secure.
The Athena Reset Foamer is calibrated to mix both chemicals at ideal rates to clean, sterilize, and disinfect all hard surfaces. Adjust wet/dry foam preference to your desired consistency.

Other foaming device
Manually or mechanically mix Athena Perafoam at a rate of 1 fl. oz. per gallon of water. Add Athena Reset at a rate of 1 fl. oz. per gallon of solution and mix thoroughly. Apply through a conventional foam generating device (foamer) and adjust settings to obtain the desired foam characteristics.
See Room Reset SOP for further details and instructions.

Warning
Athena Reset is a hazardous chemical. Always use in accordance with instructions and wear appropriate personal protective equipment (PPE).